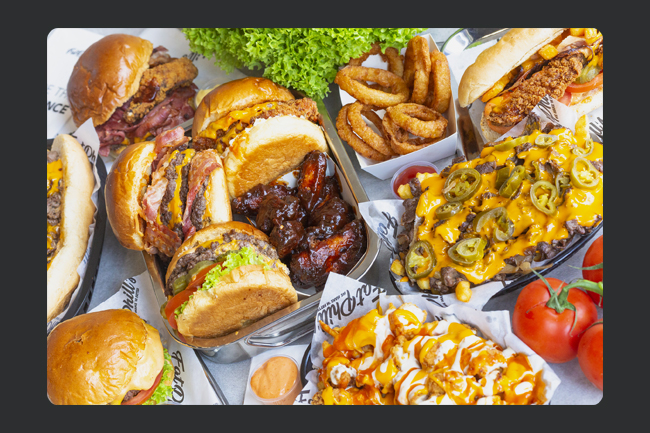 We make everything fresh to order.
That way every burger is burgerlicious

With 20 years of experience in gourmet restaurants and from an enterprising family.
Fat Phill's is the gathering a lot of experience and love for food. All dishes are prepared with passion and are super delicious.

Fat Phill's best recipe is passion!
Your favorite Fat Phill's products delivered to your home. Check whether it is available in your area with the Uber Eats or Thuisbezorgd App.
Is Fat Phill's not available at your address? Then you can always visit one of our locations!
As a franchisee you are intensively guided and supported by the franchisor. Fat Phill's offers franchisees comprehensive guidance in the start-up phase and support with regard to store presentation, financial affairs and personnel matters. Fat Phill's also offers central automation and management information. So as a franchisee you don't have to worry about being on your own.
Fat Phill's supports its franchisees in everything, so that they can fully focus on their store and customers.
Open your own Fat Phill's?
Are you a real Burgerboss? And are you interested in the possibilities for your own Fat Phill's Diner? Fill in your details and receive the franchise brochure without any obligations!
Do you want to work at Fat Phill's?
Are you at least 15 years old and available for at least 4 hours a week? Are you also positive, service-oriented, social and a real team player? Beautiful! Then you fit right in with our Crew.
"The meat comes straight of the farm, the buns perfect, you can absolutly taste that the ingredients are locally sourced – no wonder this is the best place to eat burgers in Amsterdam."

"Fat Phill's is, in fact, the burger king when it comes to offering the best food of its kind."

"I don´t remember a single mouthful I didn't enjoy. Right now if I go to any other burger place I'll wish I´d have gone to the Fat Phill's instead."

Voor meer informatie over Fat Phill's:
Geelvinckssteeg 2h, 1017 BE Amsterdam
Grote Markt 82, 1315 JJ Almere
Nog vragen? We stellen uw feedback op prijs.

Vul het onderstaande formulier in en we nemen zo snel mogelijk contact met u op.